Adjustable Resistance Tubes
Rs. 399.00
Rs. 1,500.00
-74% OFF
RESISTANCE LEVELS
Black 12 - 14 KG
Green 10 - 12 KG
Blue 7 - 10 KG
Red 5 - 7 KG
Yellow 3 - 5 KG
Bundle(Black & Blue)
Bundle(Black & Green)
Bundle(Green & Blue)
Bundle(Black, Green & Blue)
Bundle(Red & yellow)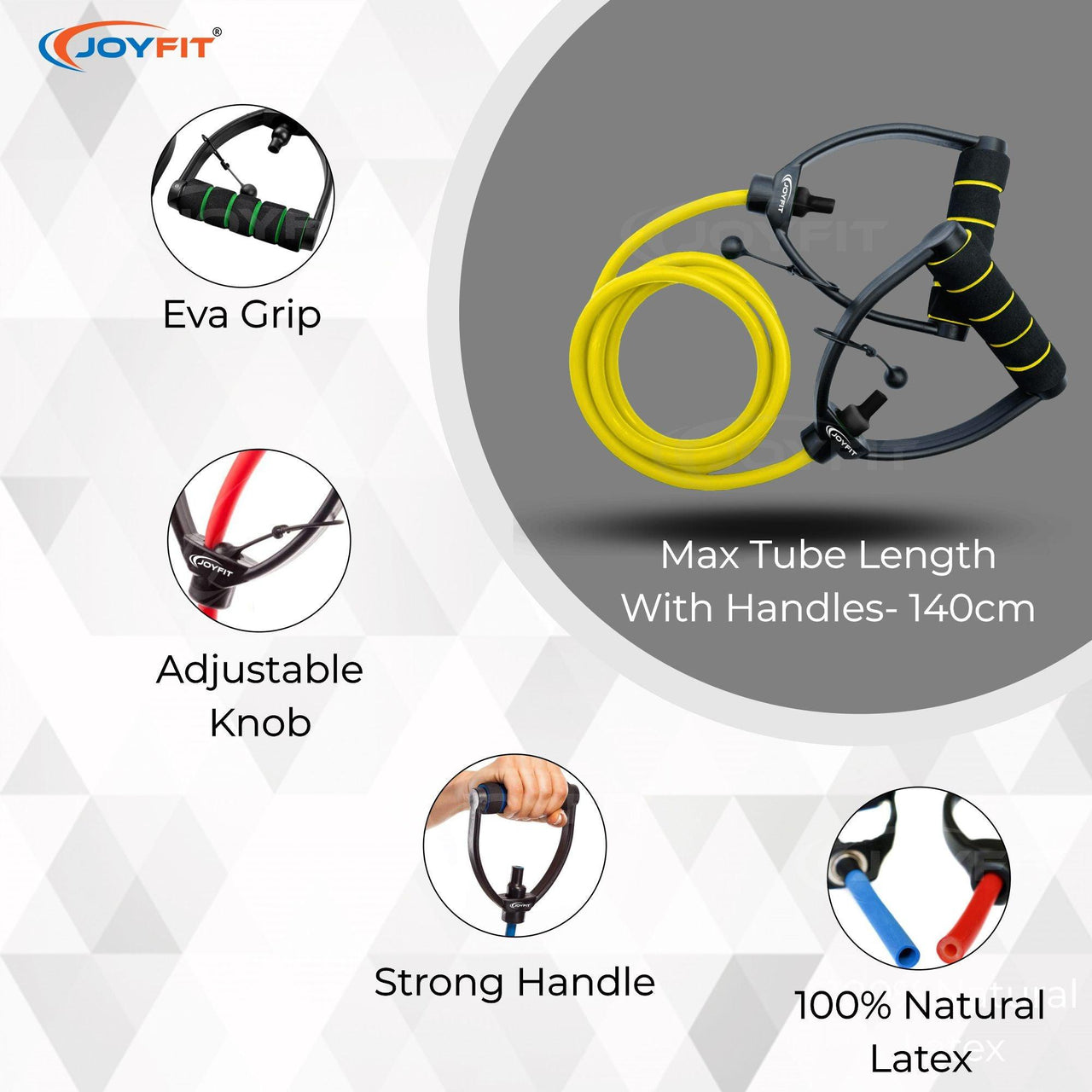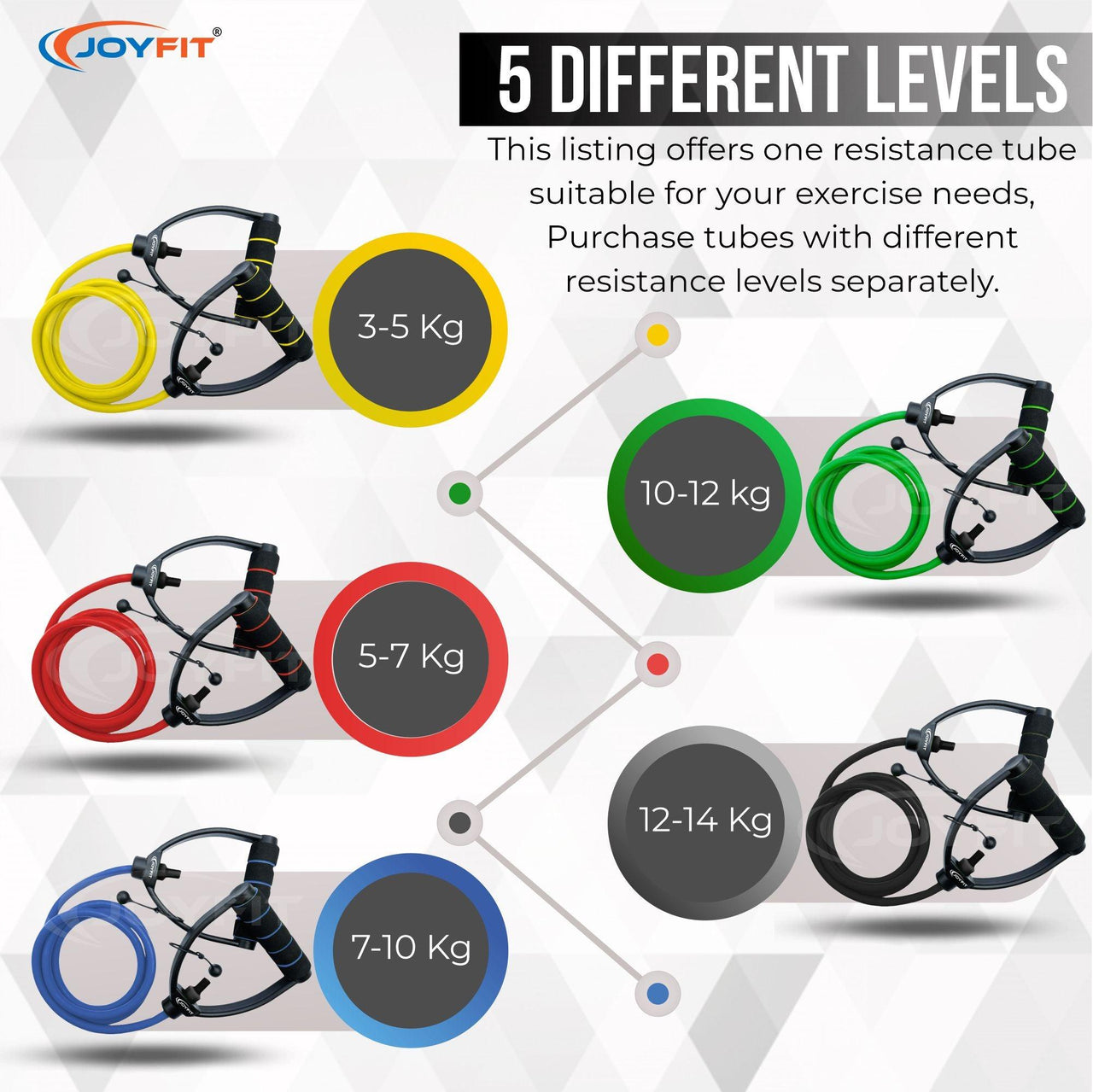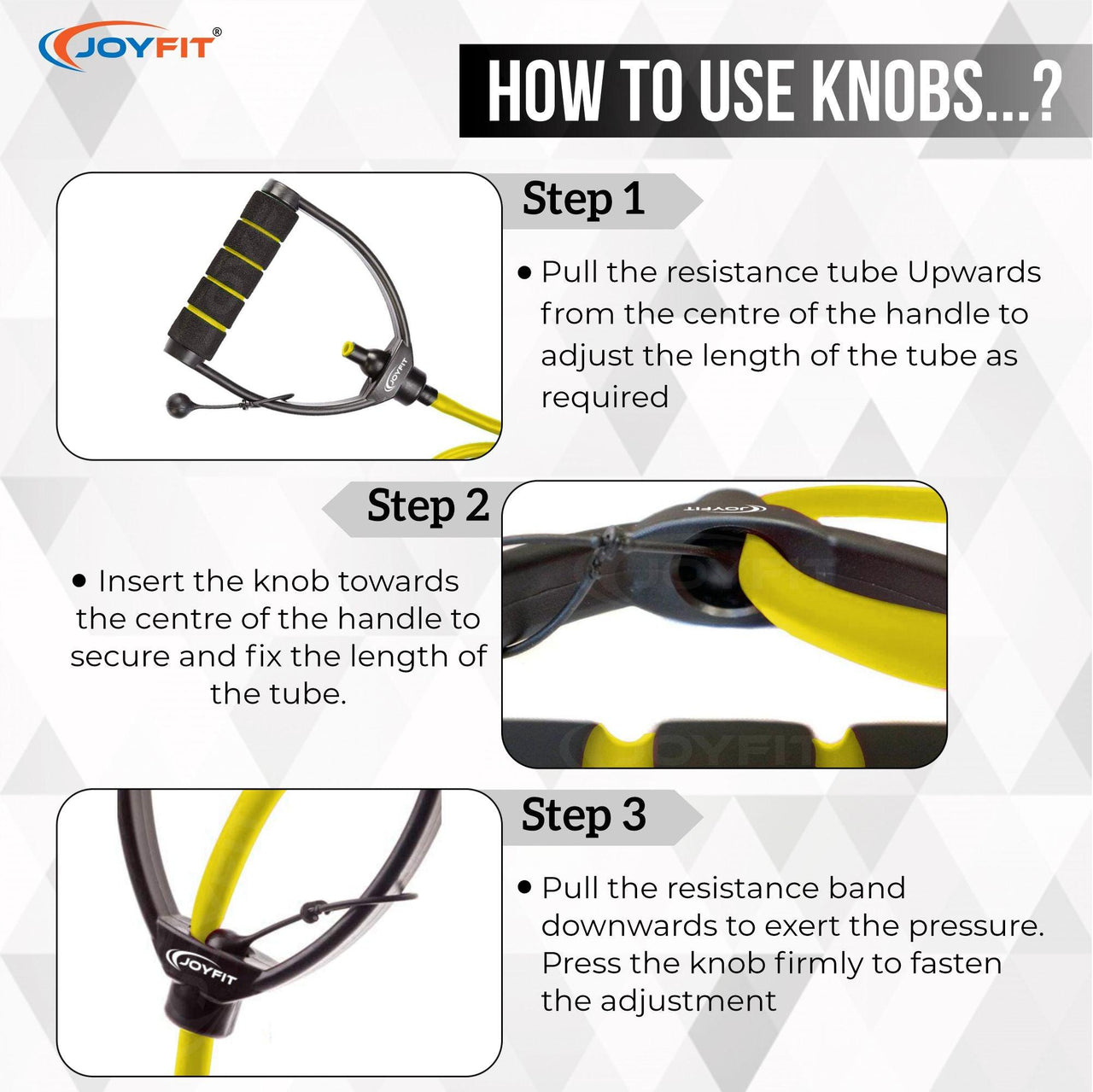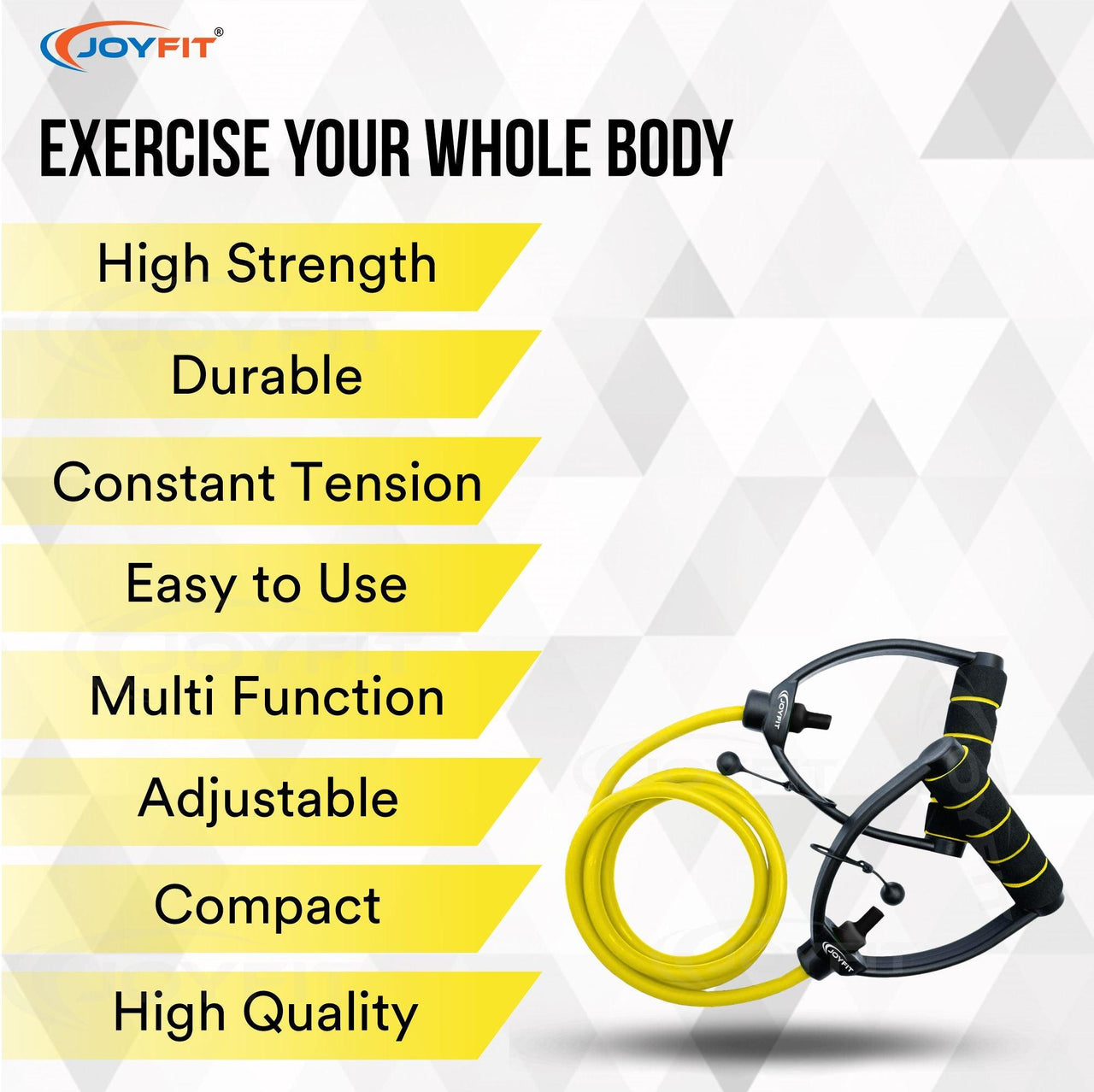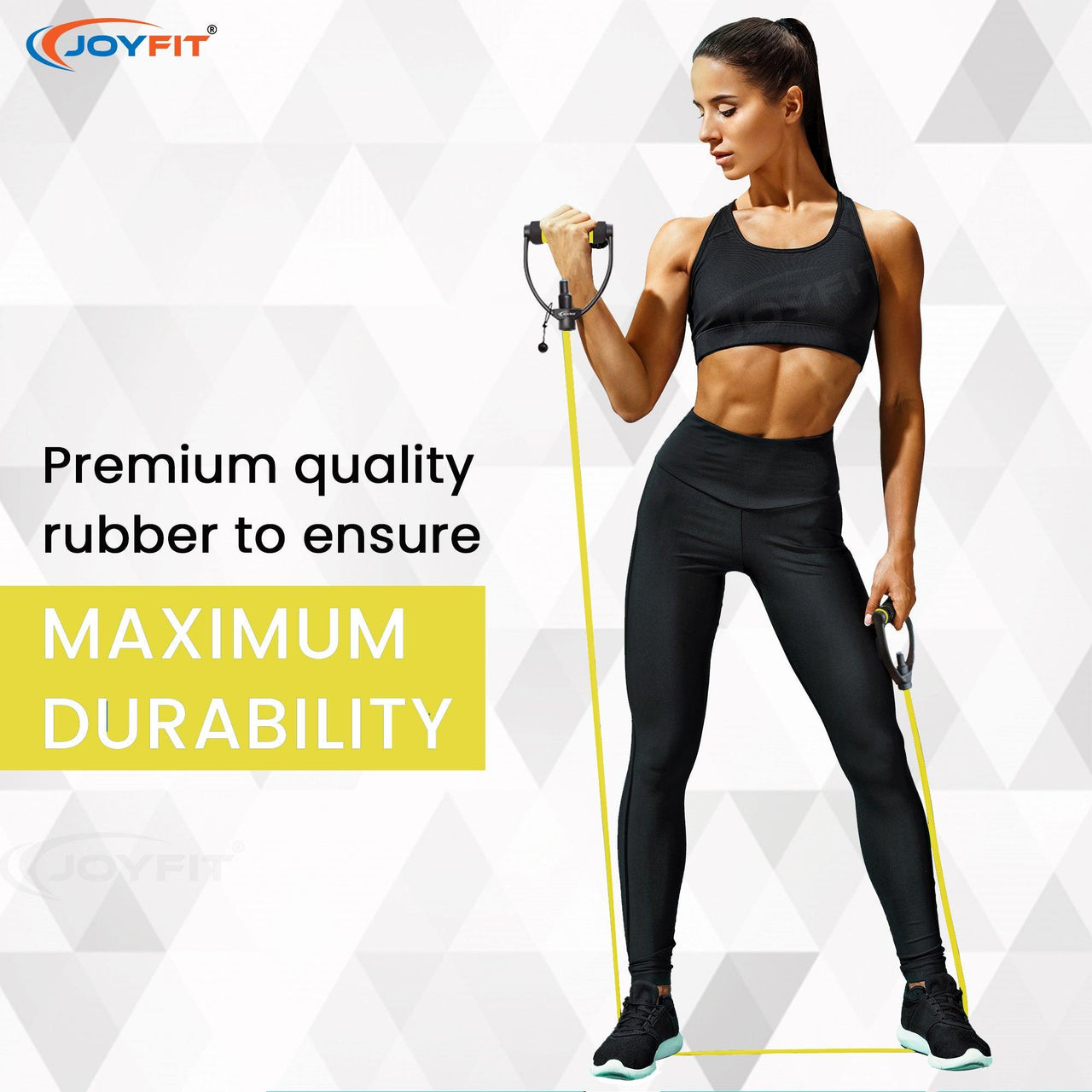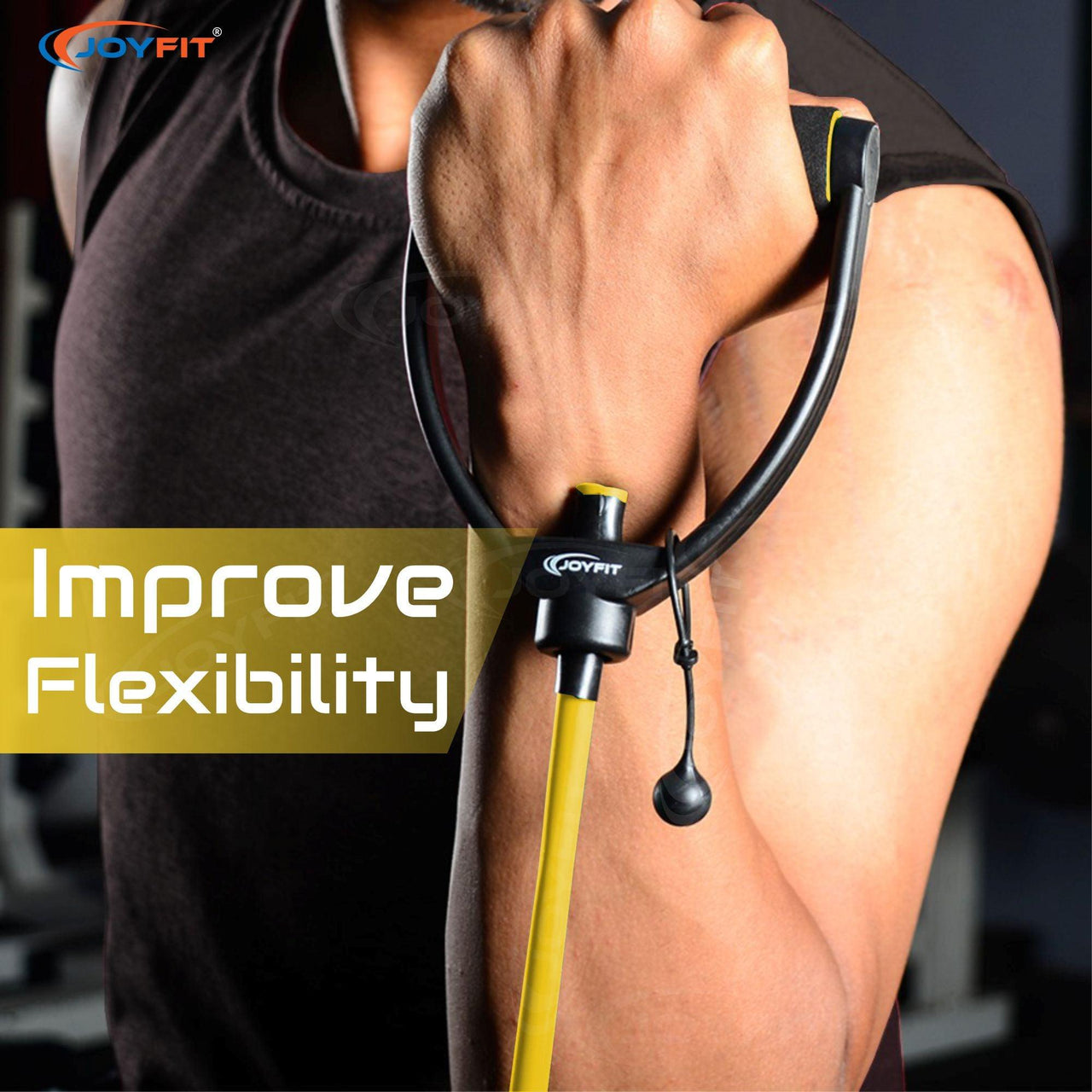 Adjustable Resistance Tubes with Door Anchor for Home Workout
Get a gym-like physique from the comfort of your home with Joyfit's adjustable extra-strong resistance tubes.
Now you can tone up your body, build muscles and lose fats anytime anywhere without a gym membership or heavy equipment.
This adjustable resistance tube will allow you to do a whole-body workout in less than 20 minutes a day that helps you strengthen your upper body, legs, abs, and arms.
In short, just a 20-minute workout a day will transform your body and keep you in shape!
The best thing about the resistance tubes is that you can carry them wherever you go, be it your office, your home, a gym, or on a trip.
Now you have no reason for skipping your workout regime, right?
Joyfit resistance tube is made with 100% Natural Latex, which makes the toning tube extra-stronger and capable of more stretches. It comes with a 123cm tube length and 4cm thickness.
The resistance tube is built with stronger, more comfortable handles to support heavyweight, last longer, and give you a smooth feel as you workout. 
Joyfit resistance and toning workout bands are super versatile and can be used for different types of exercises like Crossfit Training, Pilates, Yoga, Physiotherapy, Strengthening, and Toning.
This workout band comes with knobs to adjust the length and can be used by both men and women of all age groups alike. A Door Anchor is provided with the bundle.
RESISTANCE TUBE FEATURES
Anti Snap Resistance Tubes
  Joyfit resistance exercise tubes are made with the finest quality of 100% Natural Latex, Rubber, which makes the toning tube capable of more stretches to last longer.
Joyfit resistance tubes combo pack comes along with a door anchor to hold up the exercise tubes during your workout. Door Anchor helps workout with the desired weight hassle-free. 
 The toning tubes are designed with an adjustable knob at the end of the handle, which can be used to adjust the length of the resistance tube according to the exercise needs. 
Different level resistance tubes
The Joyfit resistance tube comes with different resistance levels. You can choose the resistance band suitable for your fitness needs from Yellow 3-5kgs, Green 10-12kgs, Red 5-7kgs, Blue 7-10kgs, Black 12-14kgs.  
The resistance tube aligns perfectly with your exercise routine making it more challenging. The single toning tube is easy to carry. The Resistance Toning Tube perfectly suits your fitness goals. It is perfect to train on full body and can be integrated with popular workout programs. 
If You Order Joyfit Adjustable Resistance Tubes Today, You'll Get A Bonus Full-Body Workout Guide For FREE
The guide will help you achieve your desired physique using resistance tubes way quicker than you can imagine. All you have to do is follow the workout plan consistently.
The Guide Consists of -
- A Systematic Full-Body Workout Plan
- The Science Behind Muscle Gain & Fat Loss
- 37+ Different Workouts With Resistance Tubes
- Training For Your Upper Body, Core & Leg Muscles
Take The First Step of Transforming Your Body.
BUY YOUR RESISTANCE TUBES NOW!

Next Product