Adjustable Doorway Workout Bar with No Screw Installation
Rs. 1,599.00
Rs. 2,499.00
-37% OFF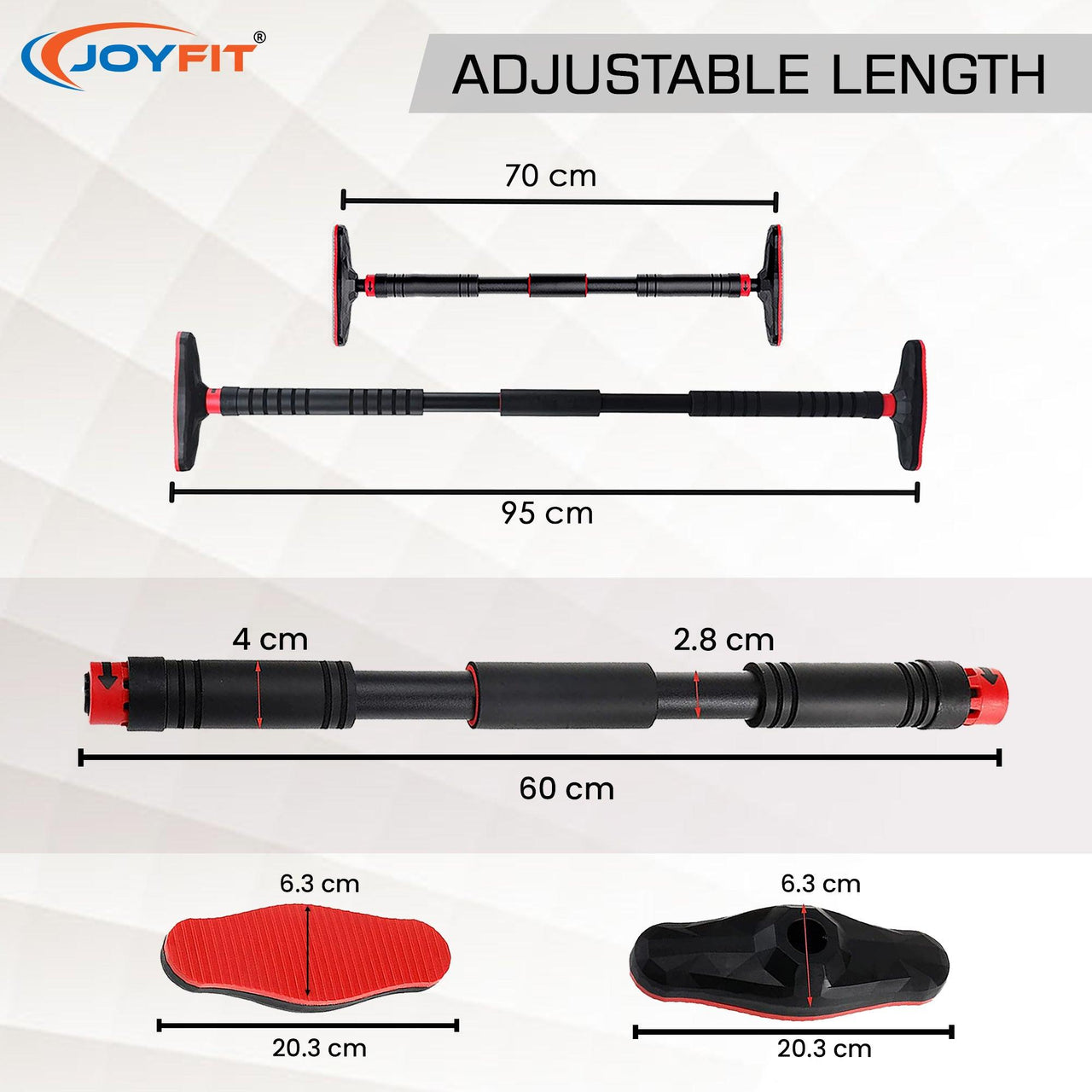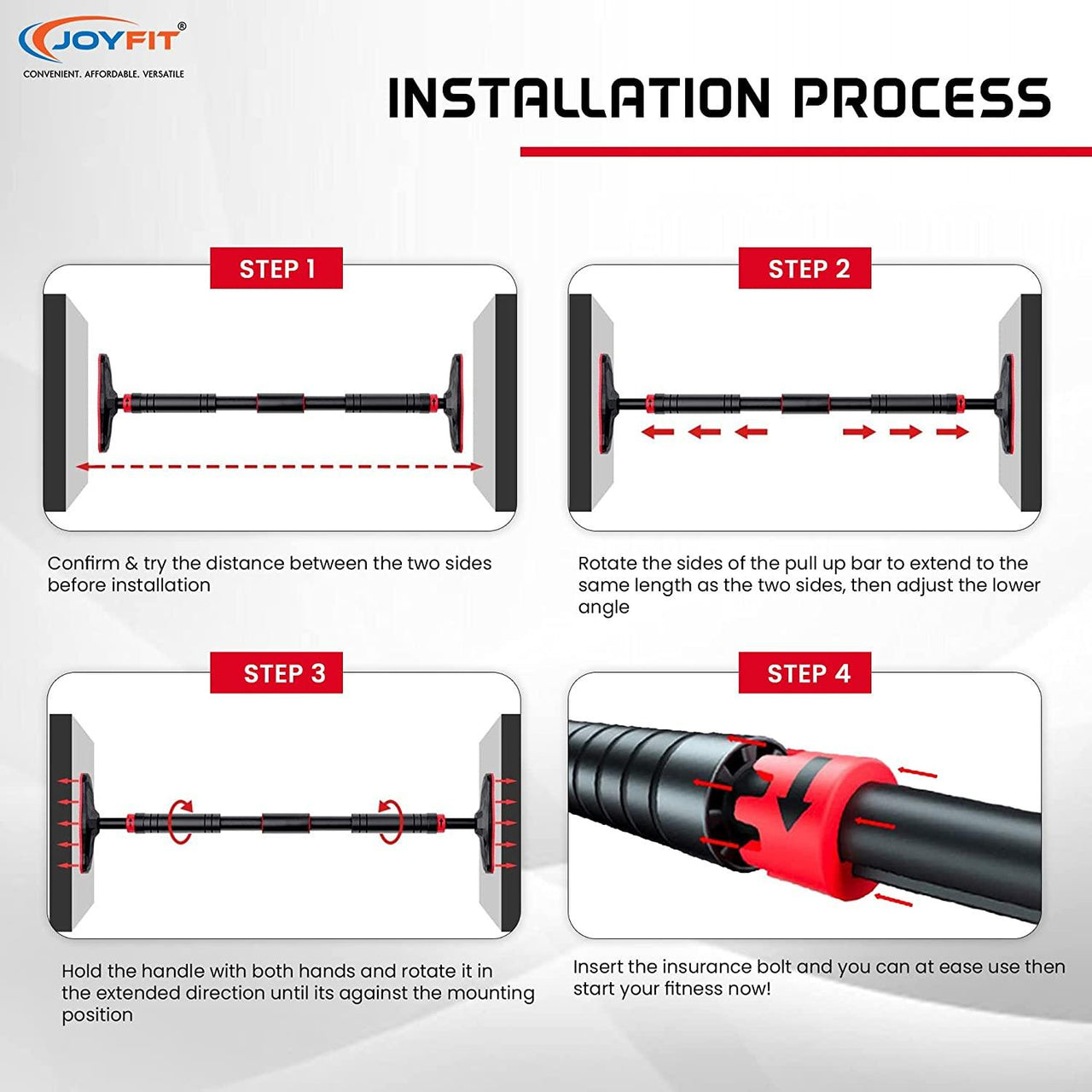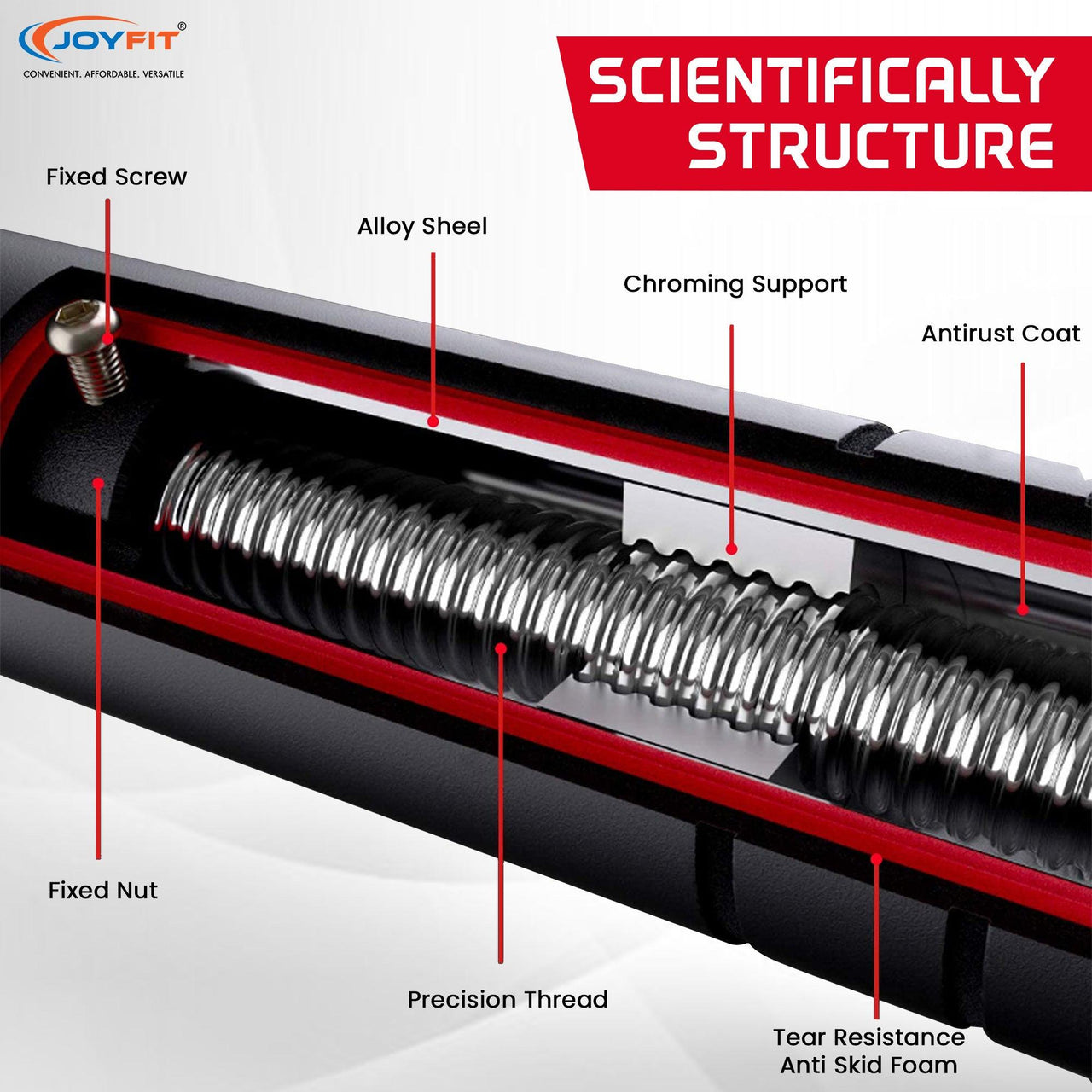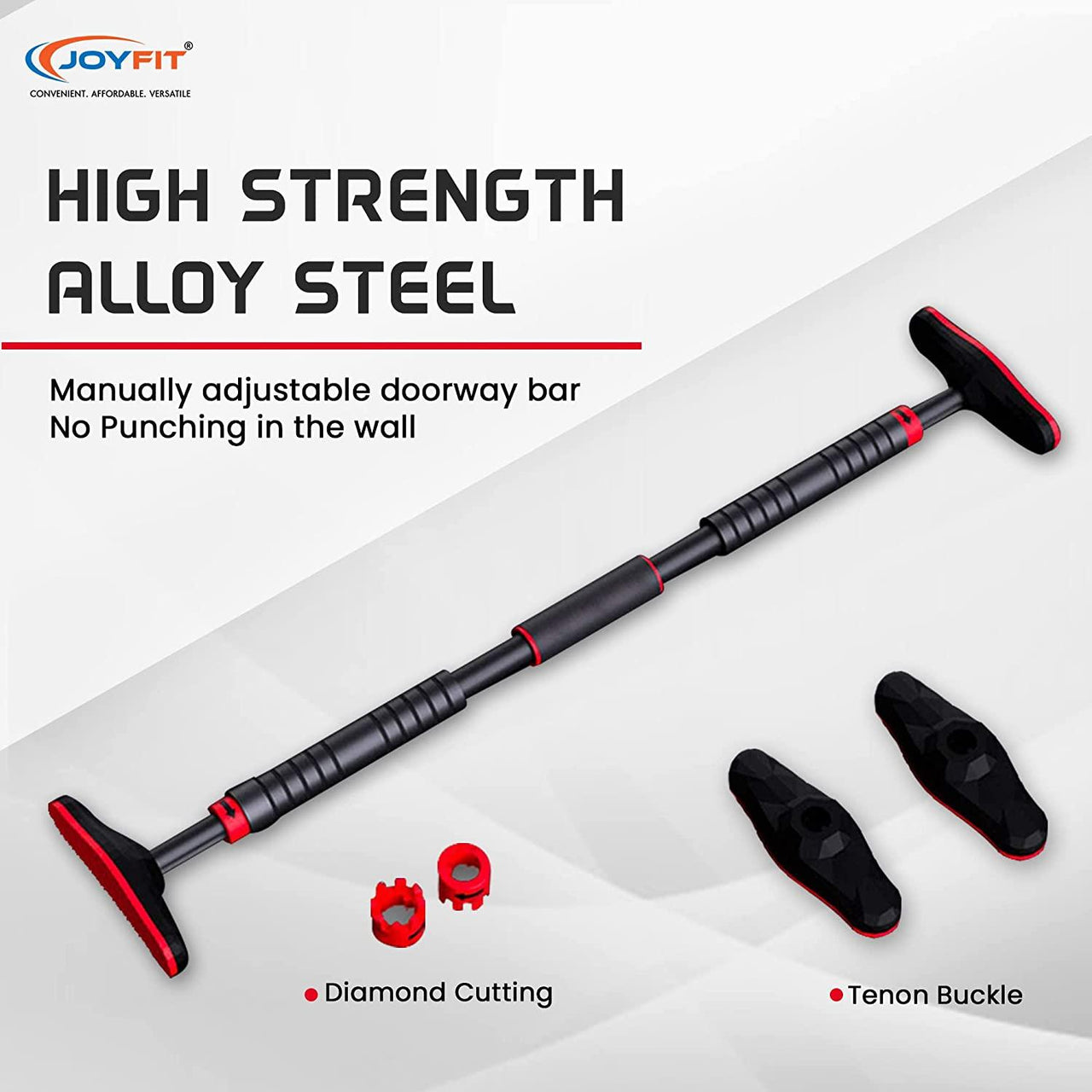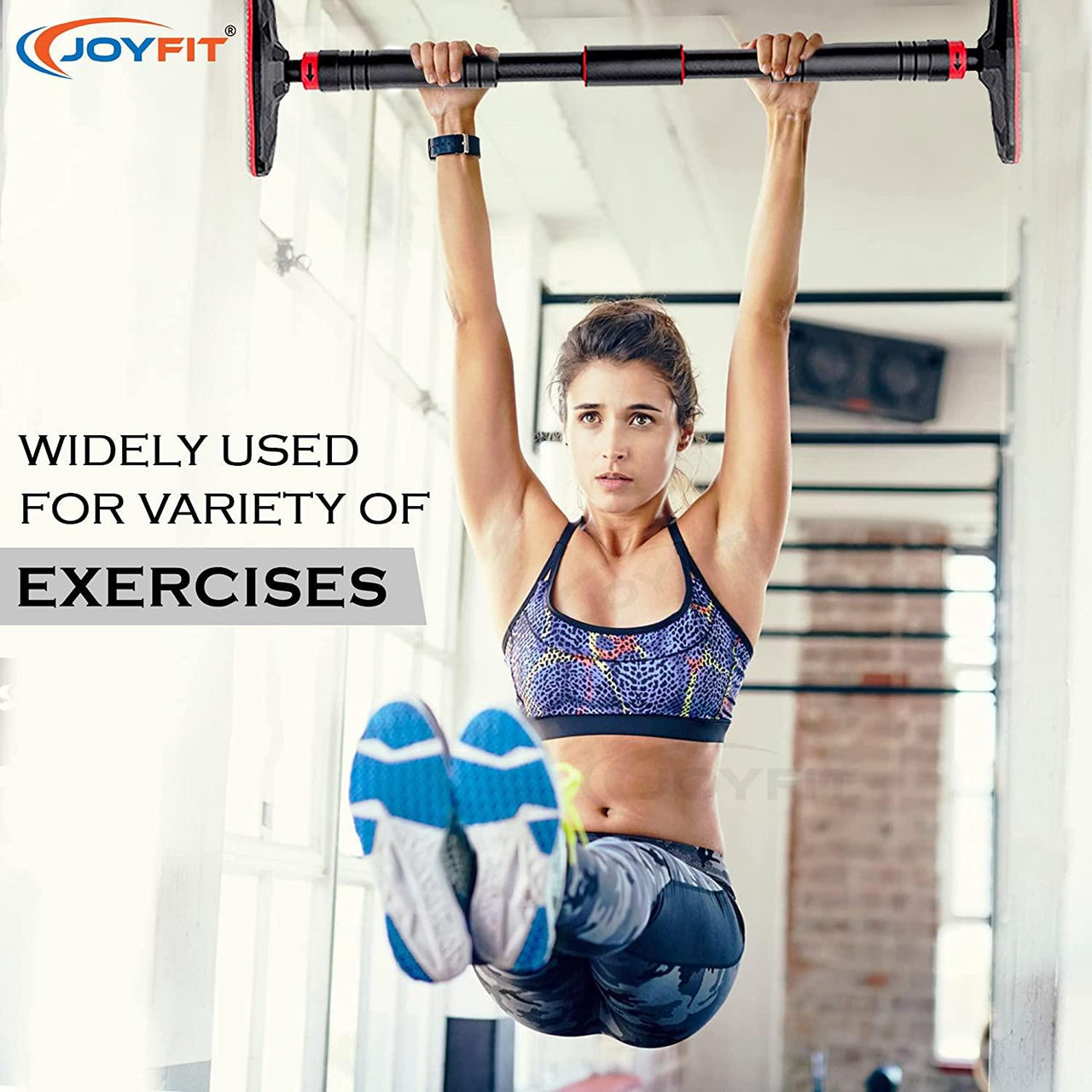 Strengthen Your Upper Body & Build Your Muscles From The Comfort of Your Home Without Screwing or Drilling Your Walls
Do you know what's the most ancient yet effective way to strengthen your arms and pump up your upper body muscles?
They're the Pull-Ups!
Being one of the simplest of exercises, pull-ups uses your own body weight to strengthen your arms, shoulders, chest, etc.
But finding a place to perform them at your home is impractical, right?
Not to mention the screwing & drilling, it might need to install a regular pull-up bar at your house.
That's why we're bringing to you -
Joyfit Adjustable Doorway Pull Up Bar with No Screw Installation and Anti-Skid Mount for Pull-Ups, Chin-Ups & Upper Body Workouts
This robust fitness gear comes with removable anti-skid devices at both the ends that holds the body weight of up to 100 kgs without slipping or skidding.
They help you to fix the pull-up bar firmly at a doorway without needing you to drill the holes to your walls or do the 'screwing'.
The best thing about this Doorway Pull-Up Bar is that its installation & uninstallation process is so quick that you can use it at different levels at different times and use it in various different ways.
So now you can add definition to your muscles by imparting versatility in your exercise regime.
You Can Use This Workout Bar For
- Pull-Ups
- Chin-Ups
- Push-Ups
- Supine Pull Ups
- Support for Stretches
- Support for Crunches
The foam-padded sturdy grip wrapped around the bar will provide you the much needed comfort while doing the pull ups. It will give you the firmer grip and ensure that your wrist pain or hand fatigue is kept at bay.
Also, the premium quality material used for the grip is non-slip which will take care of you while you try out those rigorous moves with sweaty palms. The non-toxic, odor free grip material will add to a better and a safer experience.
Made with high-quality carbon steel, the bar is designed to provide safety and stability, all at the comfort of your home.
Why Will You Love This Pull-Up Bar?
✅ Upgraded Anti-Skid Mount
The anti-slip, anti-skid removable mounting device at both ends of the bar now comes with an upgraded design. It now has a wider interface for better fixtures.
✅ Secured Locking Mechanism
The secure locking mechanism provided by the rotatable knobs helps keep the handles and the pull-up bar fixed. This improves the stability of the pull-up bar. It prevents the bar from spinning, rotating or loosening while you workout.
✅ Comfortable Foam Grip
The thick EVA foam grip wrapped around the bar provides extra comfort and minimizes hand fatigue or pain. It is made from odorless, non-toxic & non-slip material, so working out with sweaty palms doesn't become an issue.
✅ Heavy Duty Material
The Joyfit Workout bar is made with a heavy-duty Carbon steel frame providing great support and safety. The bar is sturdy & reliable to use and has a higher tensile strength.
✅ Easily Adjustable Length
The Joyfit Home exercise bar length can be extended from 65 cms to 95 cms. This makes our workout bar suitable for almost all standard doorways. The shorter collapsed height makes it portable too.
✅ High Capacity
This pull-up bar can easily hold a bodyweight of up to 100 kgs if installed correctly.
✅ Easy to Install
Installing this pull-up bar doesn't require screwing or drilling the walls at your home. It can be quickly installed at the door frames using anti-skid mounts in less than 5 minutes. This convenience helps you to enjoy your exercise at any time and any place.
✅ Versatile Workout Options
The ergonomically constructed Joyfit workout bar helps you add multiple variations to your upper body strength training exercises. You can fix the Joyfit Workout Bar at a lower level and use it for sit-ups, push-ups, dips, crunches, and even stretching.
PACKAGE INCLUDES: 1 Pc Pull Up Bar